Dissent 133 Reviews and Press
ADVERSE WEATHER PROTECTION FOR DEVOTED RIDERS. DESIGNED & TESTED IN SUSSEX, UK
There are, on average, 133 days of rainfall per year in the UK. We know you want to ride them, we do too. Dissent 133 is dedicated to giving you the tools to have a great day on the bike in even the harshest variable conditions. Nothing beats the satisfaction of smashing a great ride, building your speed and endurance in proper 'classics' weather, knowing everyone else has given up and hidden inside.
The Rider Firm is based in the heart of the South Downs in Sussex. Our company has a core of riders, our first marque was HuntBikeWheels and we have a simple mission; to create cutting-edge performance cycling products for devoted riders like you. We seek innovation in all areas that will allow you to ride further, faster and have more more fun doing it. Dissent 133 was born from our experiences with difficult and changing weather conditions and we knew there were several ways we could serve riders.
133 DAYS OF RAIN. RIDE THEM.
Gloves - Light, flexible & adaptable to a huge range of conditions
Dissent 133 Layering Concept
The Dissent 133 Layered Glove System was born from days on end spent riding in variable conditions, with numb fingers and wet hands, causing difficulty shifting gears or braking hard. When the weather is foul outside, the hardiest of cyclists reach for multiple layers to keep dry and warm. Dissent 133 applies this logic to a three-part Layered Glove System, designed to protect no matter the conditions outside. Utilising a unique layering system that mimics the way a rider would layer their upper body, to maximise adaptability throughout changeable conditions.
Warm, dry, thin and flexible | The Dissent 133 Layered Glove System puts the waterproof/windproof membrane outside all the thermal layers, keeping them dry and maintaining their thermal insulating properties.
Incredible adaptability, 11 combinations! | The Dissent 133 Layered Glove System is ideal for changeable mid-ride conditions, and each layer is easily packable. No need to own expensive thick deep winter gloves suitable for just a few rides a year.
Easy drying and washing | The individual gloves used within the Dissent 133 Layered Glove System separate without difficulty, to dry quickly and wash easily.
Less frustration | Like us, you may well have experienced the liners of winter gloves pulling out at the fingers countless times – and the struggle to push them back in! The Dissent 133 Layered Glove System completely removes this problem as the OutDry®Lite membrane is bonded directly to the Schoeller outer fabric.
We are riders so always strive to go above and beyond to serve you
We are real-world riders just like you and we want to know how we can help, please email us. We endeavour to answer queries in 24 hours, but due to high volume of queries, it may take up to 48 hours for us to get back to you.
Feel free to drop us a call between 09:00-17:00 (UK) Mon-Fri, and we would love to help out with any advice and just chat bikes and riding.
We are live on our website chat, from 09:00-17:00 (UK) Mon-Fri, and can answer any questions or queries you may have on Dissent 133 or our products.
We are also available to help on social media much of the day as well.
Rule #9 // If you are out riding in bad weather, it means you are a badass. Period.
Velominati Approved Glove Concept
velominati.com
WE ARE HERE TO PROVIDE PERFORMANCE BIKE RIDERS LIKE YOU WITH THE ULTIMATE ADVERSE WEATHER EQUIPMENT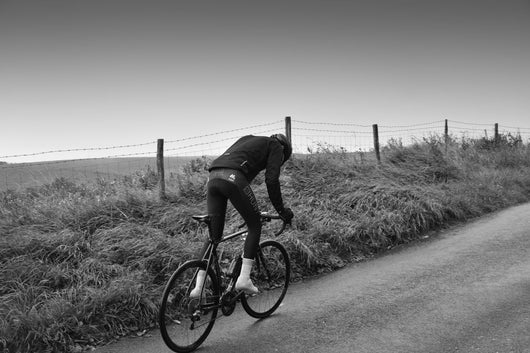 The Challenge
To ride a bike no matter the conditions. That is the challenge. Feeling the freedom of weightlessness; brakes open; one finger on the levers; head tucked; keeping focused on what lies ahead; always focused – there is no time to be second guessing your kit selection. Cycling is a battle between rider, machine and the conditions. Dissent 133 embodies this triad in search for prefect harmony between each challenge. Numb hands cannot be a part of this. We ride no matter the conditions, in a quest for the most desirable feeling yearned for by a cyclist. To Ride.
The Focus
Dissent 133 tells the story of how we all approach our riding. Shaped by the elements, the 133 days of rain on the British coastline has brought us to consider where and how we ride - all with one focus in mind; to create adverse weather equipment. Born from one glove with three complimentary layers, Dissent 133 is the choice for adverse riding conditions. You approach every ride differently, while Dissent 133 perfectly matches your needs.
The Plan
All rides start with a plan. However, some plans are not to be. Dissent 133 believes that being caught out by a downpour, snow-storm or frigid temperatures does not mean that you have to change your plans. Setting out to create equipment perfectly suited for your ride brings the most innovative technologies to cycling apparel to make all plans possible. You decide how long and far, then set out. The choice in Dissent 133 equipment is a part of this plan.